1. Which book are you currently reading?

Dave: The Rage of the Vulture by Barry Unsworth. And still slogging through a book on basic electronics for DIY'ers.

Sissi: Dissolution by C.J. Sansom

Tom: The Bible written by God.

Michael: Just started Candida.

Stephen: Onmivore's Dilemma by Michael Pollan


2. Do you smoke?

Dave: Nope

Sissi: Mostly no

Tom: Mostly yes

Michael: No.

Stephen: ;-p


3. When was the last time you got angry?

Dave: Every time I drive, hear Lou Dobbs talk, see people drop trash on the street, think about religion, run out of coffee. I guess I'm angry a lot.

Sissi: When I flip the channels and come across Bill O'Reilly.

Tom: I never get angry. I keep it all bottled up deep inside until it erupts as back acne or carbunkles on my feets. Sometimes butterflies hover around me.

Michael: Shit. I have two boys, three years old and a four years old. When was the last time I wasn't angry. Hm. I guess that actually predates my progeny.

Stephen: Dick Chaney


4. When was the last time you laughed until you cried?

Tom: When I was reading the Bible written by God and the Moabites were all like talking shit and acting tough and then God smote their sorry asses with pestilence and frogs and shit. I was like, oh snap, no you didn't, but he did.

Michael: Local menu misspelling: Spaghetti Bologrease.

Stephen: It was from an email Tom sent us [speaking] with a British accent.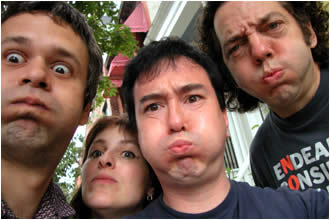 5. Was there a movie where you could not bear to see the end?

Dave: Definitely - Bug, with Ashley Judd. Freaky, depressing, gross.
Couldn't make it to the end.

Sissi: Any and all Barbie movies.

Tom: No

Michael: Looking for Mr. Goodbar.

Stephen: Dr. Strangelove


6. What character would you have liked to have played?

Tom: Willie Loman in "Death of a Salesman Part 2, the Metal Years"

Stephen: Dr. Strangelove


7. "Law & Order", "Special Victim Unit" or "Criminal Intent"?

Dave: Never seen either one.

Sissi: Criminal Intent & Special Victims Unit

Tom: Special K with half a banana or some nice berries.

Michael: Pop a Tent

Stephen: None of the above


8. Who do you currently have a crush on?

Dave: Um, my wife. And Ségolène Royal.

Sissi: Tom & Waits

Tom: Do you mean me and Tom Waits or just Tom Waits and you threw the "&" in there to confuse me? I like Barbie in Frutopia.

Michael: Definitely Tom Waits


9. What's the best moment of your day?

Dave: First coffee in the morning.

Sissi: When our son comes for a cuddle in the mornings.

Tom: When the butterflies come and hover. Sometimes they sing 'Last Ticket to Paradise' by Eddie Money in sweet tiny voices.

Michael: God I'm so unoriginal, but that first cup of coffee consistently rates up there.

Stephen: When my honey cuddles me in the morning. Or The first toke of the day. It depends.


10. What song of yours do you think is your best?

Sissi: Chickendoor

Tom: The Puny & Revolting Men of Advertising Smile

Michael: Egg

Stephen: Fun to play: My Life's a Mediocre Piece of Shit.

Dave: Everything on the new record. Really.


Alice Donut is a psychedelic punk rock band originally from New York City. Formed in 1986, the band spent the next ten years touring relentlessly throughout North America, Europe and Japan, building a perversely loyal following. Creem Magazine described Alice Donut shows as "the most decadent punk rock-fueled all-out orgies I ever witnessed." Between 1987 and 1996, Alice Donut released seven full-length albums and 15 EPs, singles, and other releases on Jello Biafra's Alternative Tentacles label and various other labels.
Tomas Antona - Vocals
Stephen Moses - Drums, Trombone
Michael Jung - Guitar, Keyboards, Vocals
David Giffen - Guitar, Vocals
Sissi Schulmeister - Bass, Banjo, Vocals

Alice Donut - Official website
Alice Donut on Myspace